Derry Hitting Academy Featuring Jim Bail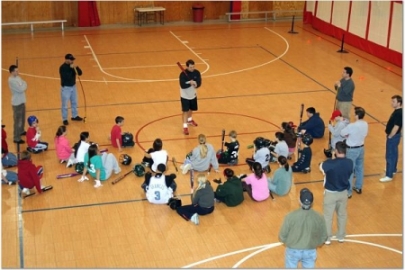 Program Dates and Times
Program starts on January 31st at 2 pm and will run Sundays from 3-4 pm @ SportsZone in Derry
(Exceptions: 1/31 & 2/14 @ 2 pm).
Players ages 10-16
Jim employs a teaching perspective developed through over 20 years' involvement in playing and coaching in Professional, College and High School Baseball coupled with well over 10 years of direct involvement in youth coaching, coaching development and skills clinics and academies.
Strong mechanical and mental emphasis focused on simplification of hitting into its basic components, burning into muscle memory, and mentoring players into a calm and focused mind when at the plate.
While more than twelve of Jim's former players have gone on to play professional baseball, he takes more pride in the hundreds of kids he's coached whose lives have been positively impacted by learning excellence as a habit through commitment, hard work, and mastery of the proper mental approach & state.
Career Highlights:
1977-1981 D1 Catcher West Virginia University and West Chester University

1982-1984 Professional Catcher – Independent League, Philadelphia, PA

1985-1985 Assistant Coach, Sam Houston State University Baseball – Huntsville, TX

1990-Present Clinician – College/High School Youth Coaching Clinics

1991-1993 Head Coach, NH Senior Babe Ruth – Peterborough, NH

1993-2010 Scout, Part-time, Atlanta Braves Baseball Club

1998-1999 Head Coach, Franklin Pierce University Baseball – Rindge, NH

2000-2012 Director of Coaching Development, Windham Baseball/Softball League

2000-2010 Little League Coach (Tee-Ball through Majors LL Tournament teams)

2001-Present Founder and Director, Windham Hitting Academy

2010-2014 Coach, Windham HS Varsity Baseball (Hitting and Catchers)

2010-Present Coach, Hudson American Legion Post 48 (Hitting and Catchers)
Testimonials

… William had a great experience last summer with the hitting academy. He learned so much and had a fun at the same time. Jim Bail has been a great influence on our son and his knowledge of baseball has helped William a great deal. I recommend the Hitting Academy to everyone.

… Just thought that you'd be proud to know that your batting instruction at your hitting academy has really paid off for my sons. Last night my oldest son hit 2 homeruns at last night's playoff game. He first hit a 2 run homerun that hit the fence on the fly. His next time up at bat he hit another fly ball that hit the ground just ~5 feet before the fence. This was a single run homerun. He had a hit each time up to bat.

… We are very fortunate to have an instructor with Jim's background and knowledge of hitting. My son has attended the Hitting Academy and showed a marked improvement of his skills. Jim is great with the kids and does a great job connecting with the kids

… Chris had a great fall ball season! At one point, according to his coach, Chris was batting 800. He hit many doubles and triples and at his last at bat of his last game he hit a in-the-park home run that hit the fence on the fly. What a way to end the season! We were all so excited and happy for him! What a confidence booster! And it's all because of you! You taught them the skills they needed to be better ball players. They love playing the game and we love watching them play!